ICON Makes an Imperative Statement
This is a copy of the original article from Digizine, reformatted for this site.
To view in its original (hard-to-read) format, visit the
Digizine web site
.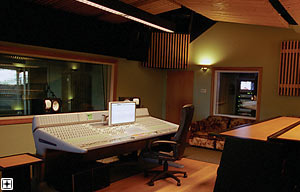 When Bob Brooks sold Vancouver's legendary Little Mountain Sound Studios, his exit from the music industry seemed to echo the title of the multi-platinum Aerosmith album recorded there in the mid-1980s: Permanent Vacation. But Brooks, now nearing his seventies, kept finding himself being lured into lending his expertise to various sound projects, despite being "retired."
"I never expected to be back in the business," Brooks reflects. "I really, really walked away from it for about ten years. But I fell back into it a bit as people found out we were there. I got calls to do some mastering for bands, and some onsite recordings. And then I started to get involved in the digital world, which for an old analog-head like me was a tough time."
From wire recorders to the first Neve console on Canada's West Coast, Brooks had always sought out the leading edge of recording technology. So when a corporation asked him to step out of retirement and help put together a studio in the Seattle area, Bob had some reckoning to do.
"The corporate people were astute enough to ask the question: 'Where are you going to go with this?' And I said, 'I don't think we need another SSL console in the Seattle market, when there are already six or seven around.' I felt that the way to go was with the latest technology."
Brooks found an old lakeside church in Mukilteo, Washington and built his new facility as a purely Pro Tools environment, including the ultimate Pro Tools control center: an ICON integrated console.
The timing was perfect. "We decided that we wanted to be a hardcore Pro Tools operation with a great board," says Brooks. "And the ICON console came on the scene right when we were building this studio. I think it was the smartest thing I've ever done, becauseit's really working for us. We installed it on May 1, 2005, and I've got to say that we're only about 20% into the capability of this board so far. We're doing stuff on the ICON that we never would have dreamed of in the old days."
Considering that the "old days" included shepherding Bon Jovi's debut record and plucking a young Bob Rock right out of high school (and later seeing Rock transform the sound of modern rock via his work with Metallica), Brooks has a keen appreciation of the recording studio's potential. While his new facility, now known as Imperative Studios, is just starting to drum up its reputation, he's already getting positive feedback on the results.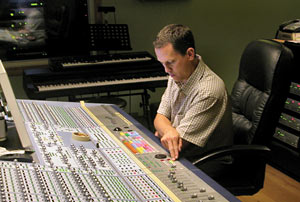 "When I go off to my people at the mastering plant, they always pronounce us healthy," Brooks says. "They're saying, 'We've never heard such consistent tracks coming to us.'"
Drummer Ben Smith is another industry vet who sings the praises of Imperative's smooth operations since the ICON purchase. Smith, whose many credits include Heart, Peter Frampton, and Kenny G, recently tracked some drums at Imperative. And according to Brooks, Smith was quite impressed with the setup.
"He said it was absolutely phenomenal," Brooks reports. "And that's quite an accolade, since he's been around for a while and has played a lot of studios."
Brooks' son Delwyn, who has been a professional engineer since the early '90s, mixed the sessions with Smith. Having worked with artists like Jimmy Page, Front Line Assembly, and K.D. Lang, Delwyn has come to the recording process from a number of angles, but was fairly new to the Pro Tools environment.
"I had only experienced Pro Tools as a sidecar on previous projects," Delwyn explains. "And when you're on an SSL or a Neve for so many years, you're always reaching for the same places wherever you go. So for me, the 'a-ha!' moment probably came after the first couple of songs. Not because of something I figured out technically or logically. It was more a feeling of 'now I feel comfortable.' There was a lot of editing to be done, and a lot of post-post-production. That's when I really got a chance to sink my teeth into the ICON."
One of the things Delwyn appreciated about Imperative's new ICON setup was his ability to move through his project quickly and efficiently, without being as dependent on outside help to get the job done.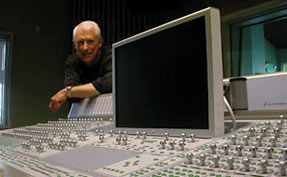 "Now I'm more in a position where I don't have to rely on a system engineer as much," he notes. "In the old analog days we were 100% patch bay, and you might need an assistant to wire up a piece of gear, or you'd have to wait while something was dialed up. With the ICON, you're not so reliant on other people. You can do things yourself and stay in that creative environment."
In the immediate future, both father and son look forward to bringing more attention to Imperative through the carefully cultivated clientele they've been introducing to the ICON since they opened their doors. Bob Brooks feels that the time they've taken to ramp up properly has been well spent.
"This is the third studio that I've built virtually from scratch," Brooks says. "Part of the deal is to never go to the street until you've got your act together — and we believe that now we've done that."
JoE Silva is the host/producer of WUGA's Just Off The Radar (www.justofftheradar.com). He's a regular contributor to Music Tech magazine in the UK, and has also written for Remix, Sound on Sound, Future Music, and other periodicals that he can't generally remember.